Seven Things to Plant in an Autumn Garden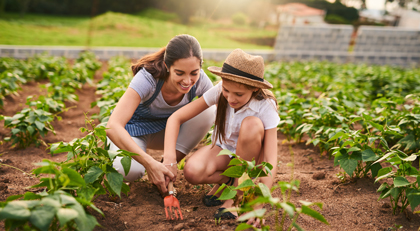 You may think of Autumn as the time of year for harvest, but it's also a time to plant certain seasonal vegetables too! Primary Times are here to tell you which seeds and seedlings will need tending to over the coming weeks to ensure your veggie tray stays stocked next season.
Winter Lettuce – this can be sown at any time from August to November. If you want a continuous crop of fresh lettuce over several weeks, make sure to plant them in rows every two weeks.

Garlic – Garlic bulbs actually need cold weather to do well, so they're best planted between late September and November. They'll be ready to harvest the following summer!
Broad Beans – To grow these over winter, you'll need to get what's called a 'hardy' variety of broad beans. They can be sown in October if the soil is still reasonably warm.
Spinach – For an Autumn crop of this tasty green superfood, the best time to sow it is in the second week of September. The seeds can be sown in crops, or directly into the ground.
Kale – If you have a poly tunnel or greenhouse (or any kind of makeshift cover to keep the cold winds at bay!) you could try growing Kale in the Autumn, too. 'Nero de Toscana' is a good hardy variety for this.
Cabbage – Cabbage seedlings sown in July-September can be transplanted outside in September and October.
Onions – Some hardier varieties of onions can be planted outdoors in October. Every 10cm/ 4in, make a small hole in the soil with your finger and place an onion set into it. It's important to plant them the correct way up with the root end onto the soil.
How to Grow Potatoes Indoors for a Christmas Harvest
1. Use a container at least 30cm (1ft) deep and wide, with drainage holes in the base.
2. Add a layer of potting compost or garden soil mixed with garden compost. A layer of 10cm should do the trick for a 1ft container.
3. Plant one to three tubers in your container (these will need about 1ft of space each, so if your container is 30 X 30 cm's, just use one tuber.)
4. Cover them with 15cms of compost or soil.
5. Place them near a big window so that they can get lots of light, covered balconies are a good spot for them too! Just be sure to keep the frost off.
6. As the foliage develops, earth up the potatoes with more soil until the container is full almost to the top – but make sure to leave a decent gap for watering.
7. Keep your potatoes well-watered, and if you can, feed them with a liquid fertiliser.
8. Tubers can be left in their compost until needed.
9. When the foliage dies down, it can be composted!
Tip: Potato grow bags with a viewing window can make it more fun to see your potatoes as they grow!