Register for the 2020 Cork Autism Conference today!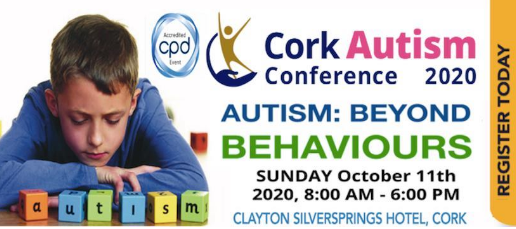 Autism: Beyond Behaviours is on Sunday October 11th at the Clayton at Hotel Silversprings, Cork.
The conference is for: Doctors, Consultants, Nurses, Psychologists, Speech and Language Therapists, Occupational Therapists, Physiotherapists, Social Care Workers, Health Care Assistants, Carers, Parents and Families to best Support and Empower Autistic Children and Adults.
At this conference you will learn:
✓ Gain Practical Interventions, Skills and Strategies to Empower Autistic Individuals with Behaviours of Concern
✓ Consider Autism Friendly Environments to Reduce Stress and Anxiety
✓Know what it is Like to Live with Autism
✓ Receive Social and Communication Skills to Understand People with Autism
✓ Discover Mindfulness Based Behaviour Approaches to Nurture Emotional Regulation
✓Support Children and Adults with Autism who have Visual Perceptual Disorders
✓ Explore Tools and Resources to Empower and Support Autistic Individuals and much more
* This event is CPD Certified for Medical Professionals
Find out MORE and SAVE up to 75% with our Super Early Bird Discount HERE