SPACE WEEK 2018: Win a Telescope for your school!
Closing Date: 10th October 2018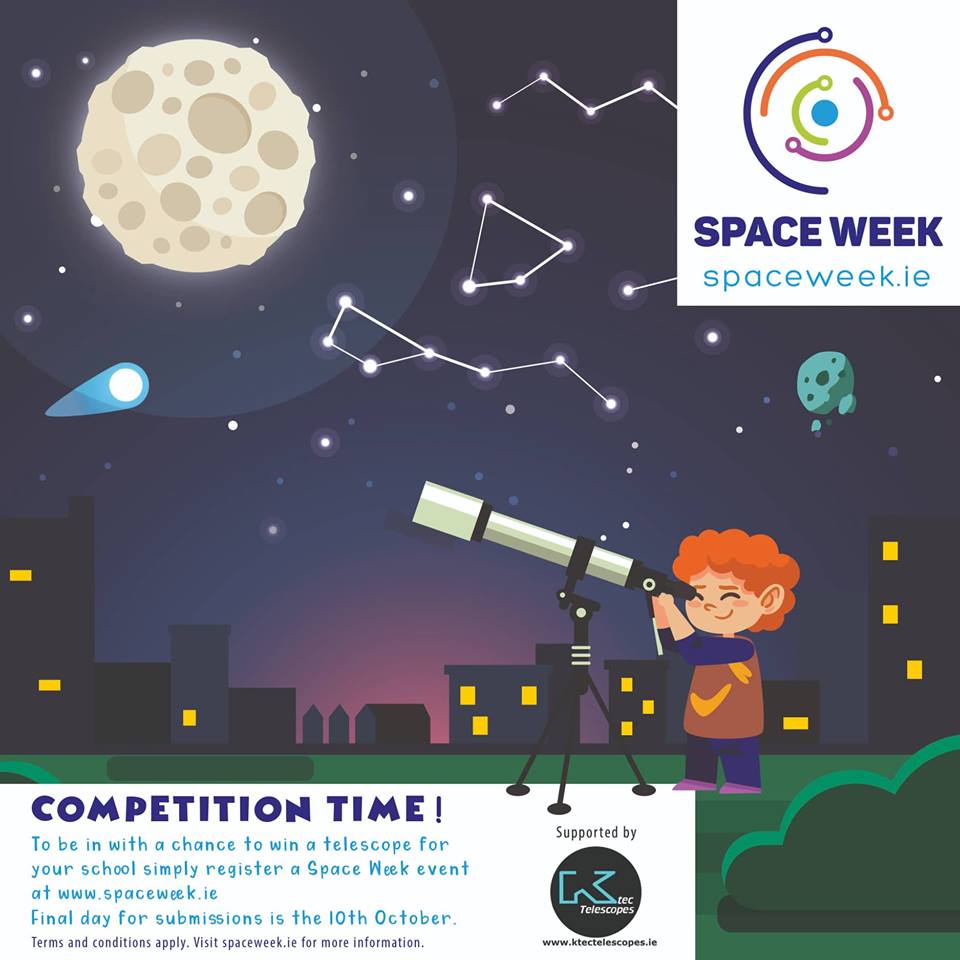 Countdown to Space Week!
Calling all Earthlings! Space Week Ireland is about to blast off, so get ready for one giant leap into all things Space.
Space Week is a week that encourages people to engage with Science, Technology, Education and Maths (STEM) through the inspirational topic of space. Space Week is run by CIT Blackrock Castle Observatory in partnership with Science Foundation Ireland and ESERO Ireland.
Space Week runs every year from October 4th to 10th and encourages schools, industry, and families to organise, or participate in, Space themed activities. In 2017, 14,000 people from around the country participated in activities, and this year already looks set to surpass that success.
Some of the key events already planned include a Space Careers Roadshow at Dublin City University and Cork Institute of Technology (on the 4th and 10th of October respectively), a conference for Junior Cycle science teachers at Birr Castle on the 6th of October, and a musical project with musician Jack L and the National Children's Choir that offers an exciting take on David Bowie's classic song 'Starman'.
Space Week Ireland runs in tandem with World Space Week, and Ireland's cooperation in this global celebration will include a large-scale Space Selfie taken from Planet satellites during the Careers Roadshow at Cork Institute of Technology. The selfie will involve hundreds of participants coming together to form a large human symbol that can be detected from the satellite.
To get involved in Space Week, just check www.spaceweek.ie to find events in your area, or for tips on how to register and host your own event. Don't forget, that every school who submits an event will be in with a chance of winning their very own telescope! The Space Week website has resources for students, teachers, families and industry partners, so there is something for everyone.
Get excited. Get involved. And don't forget to look up…