Celebrating BOLD GIRLS with Children's Books Ireland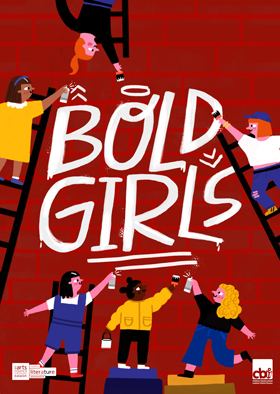 PROMOTING BRAVE, INTELLIGENT & STRONG WOMEN & GIRLS IN CHILDREN'S BOOKS with Schools Resource Pack and Reading Guide - both free to download
On International Women's Day 8th March, in the centenary of Irish women's suffrage, Children's Books Ireland's BOLD GIRLS initiative will go live with a multi-faceted celebration of brave, intelligent, strong women and girls in children's books, giving them much-needed visibility alongside their male counterparts.
From 8th March, it will be possible to download the BOLD GIRLD Schools Resource Pack, and the BOLD GIRLS Reading Guide, as part of this initiative, both free from the Children's Books Ireland website www.childrensbooksireland.ie.
The BOLD GIRLS Reading Guide offers reviews and information on nearly 200 books for readers aged 0–18, all featuring female characters with agency, power and opinions, and include both classics and non-fiction, in both English and the Irish language. These are titles that address at a young age some of the issues that stand in the way of women achieving their ambitions, whether that be in leadership, in government or in the arts. The Guide includes books from Ireland and around the globe, featuring pirates, politicians, ponies, polar bears, pilots, princesses and pretty much everything in between, from authors and illustrators ranging from Marita Conlon-McKenna to Roald Dahl to L. M. Montgomery.
The BOLD GIRLS initiative is highlighting twenty female Irish authors and illustrators who have made an exceptional contribution to the canon of Irish children's literature, including former Irish children's laureates and award-winners: Kathi (Fatti) Burke, Anna Carey, Marita Conlon-McKenna, Sarah Crossan, Judi Curtin, Marie-Louise Fitzpatrick, Patricia Forde, Claire Hennessy, Yasmeen Ismail, Lucinda Jacob, Celine Kiernan, Jane Mitchell, Mary Murphy, Áine Ní Ghlinn, Louise O'Neill, Siobhán Parkinson, Niamh Sharkey, Deirdre Sullivan, Sarah Webb and Sheena Wilkinson.
These twenty BOLD GIRLS are all highlighted in the Reading Guide, which is available from 8th March online from childrensbooksireland.ie and good bookstores while stocks last.
For pupils and teachers, Children's Books Ireland have also produced a free BOLD GIRLS Resource Pack, based on 20 books from the guide, ranging from non-fiction I Am Malala to Little Red - a re-telling of the Little Red Riding Hood story for readers aged 2-4. Catering for both primary and secondary schools, this pack invites students to engage with books and reading in creative ways, asking important questions around gender, equality and stereotypes, providing teachers with the resources and oportunities to engage with themes around the centenary of Irish women's suffrage. The pack is also free to download from childrensbooksireland.ie from 8th March.
BOLD GIRLS events will also take place across the country this spring and summer, and in the Long Room, Old Library, Trinity College Dublin, an exhibition Story Spinners: Irish Women and Children's Books will celebrate the fantastic skill and artistry of Irish women writers and illustrators of children's texts. The exhibition runs from 8thMarch to May 2018.
Jenny Murray, Acting Director of Children's Books Ireland, says, "Children's Books Ireland is incredibly proud of the BOLD GIRLS project. When we initially came up with this idea it became very evident that it was timely. The role, perception, treatment and expectations of women and young girls is front and centre of daily media discussions. The project is designed to encourage young girls and young women to see themselves in the pages of fiction and non-fiction books, and to encourage them to go out into the world as brave, strong, bold, self-possessed young women. We also want to encourage young boys and men to see all the women and girls in their lives in this way, and to support them."
For more information and announcements about BOLD GIRLS, visit www.childrensbooksireland.ie to sign up for Children's Books Ireland's newsletter, or follow Children's Books Ireland on Facebook