Volunteer as a host family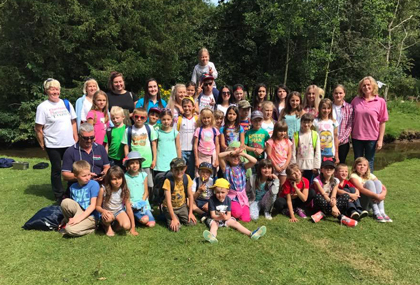 Chernobyl Children's Trust Cork - Waterford
The accident at the Chernobyl nuclear power plant in 1986 left large parts of Belarus contaminated. Chernobyl Children's Trust is a registered charity - set up and run by Irish volunteers committed to helping impoverished children living in contaminated & disadvantaged areas of Belarus. The Trust is a non-denominational, non-political, humanitarian organisation. None of the Chernobyl Children's Trust volunteers in Ireland - from the Chairperson of the board to any of the volunteers - are paid and all work is completely voluntary. The Cork Waterford group of the Chernobyl Children's Trust volunteers in Belarus; hosts children for rest and recuperation in the summer; volunteers youth liaison teams and helps fundraise for this very worthy cause!
Could you and your family open your home to a Belarusian child next summer?
If you have ever considered providing a recuperative holiday for children from Chernobyl-affected and disadvantaged areas of Belarus - hosting these amazing children can be one of the most rewarding experiences of your life. To take a child out of a contaminated area even for a few weeks can boost their immune system and instil a sense of positivity, which can be lacking in many of their lives. The generosity of Irish families in hosting a visiting child from Belarus provides a boost to the health and spirits of not only the child, but also to their family, friends and their community. Visiting children are placed in pairs with families usually for a period of two or four weeks. The children's average age is 10 and the youngest are 7 years old. Weekly activities are organised by local group committees and translators are available at all times throughout the children's stay.
It is not necessary to have your own children in order to be a host family, as long as you borrow some toys from friends and your house is child friendly, it need not be a problem at all. If you do have children, it is important that they are enthusiastic about the idea of hosting children from Belarus, and happy to share their home and toys. Most of the children will speak little or no English, however each group of children is accompanied by translators, and a phonetic phrase book is also provided for use. Download Google Translate free app for your smartphone for immediate spoken Russian /English and English/Russian translation!
'Being a host parent is one of the most rewarding and satisfying things I have ever done. Our little 3 year old called the girls her sisters and loved having them. The weeks flew, and honestly for all of the love and memories we gave them, they gave us more back by the bucket load. If you have room in a warm and friendly home, and can provide a loving environment for 2 weeks, I urge you to consider- we've never looked back' - Emma Murphy, mum of 3.
It should not be expensive to host children, and in fact, CCT ask families not to spend a lot of money on visiting children with expensive gifts, as this puts pressure on other families to do the same. CCT volunteers provide a clothing bank ready to help host families free of charge, as well as weekly fruit allowances for each child. All families must receive Garda vetting and clearance in advance of hosting a child from Belarus.
The 2017 summer visits by the children from Belarus were a huge success; with good fun and good food had by all - and lifelong friendships made. The Irish registered Chernobyl Children's Trust charity welcomed many new children this year and new Irish host families. The children enjoyed action-packed days out at Perks Entertainment Centre, Trabolgan Holiday Village and Fota Wildlife Park. The final goodbye-party for all the host families, children and volunteers was held at Midleton Park Hotel, with lots of fun and games!
Other ways to help
The most effective way to help is to get involved!
Donate or fundraise by planning an event in your area - even a small donation can make a big difference.
The annual Ballycotton cliff walk takes place on Sunday 18th March 2018 – sponsor cards available.
Help collect, sort & load humanitarian aid
Volunteer abroad at holidays camps in Belarus in respite centres
Nursing/medical volunteers welcome to assist in caring for children in Belarusian home care