KAPHEUS: Meet the Author Marguerite Tonery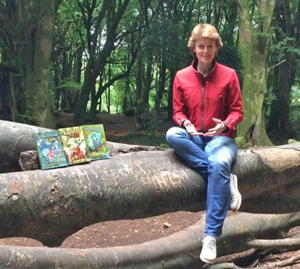 Marguerite Tonery is the author of the Kapheus series of books - an epic fantasy adventure story for children 7+ years old. David T. Wenzel, the man who illustrated The Hobbit, one of the most famous books in the world, illustrated the covers of all the Kapheus books. Marguerite Tonery was born on the west coast of Ireland and lives in Galway, and has a background in biochemistry and psychology.
Kapheus is the fantastical world of light where imagination is real, and dragons, elves and mythical creatures abide. The books are about Elisa and Jamie, a sister and brother who live with their parents in a house by the woods. Their Great Uncle Davin comes to visit, and sets them on an adventure through the fantastical world of light. The Kapheus series is steeped in Irish mythology; allowing the reader to enter the world of mythological heroes, dragons, unicorns, fairies and elves.
The first book Kapheus Earth, is based on Marguerite's walks through Barna Woods in Galway. Kapheus Air is set on the Aran Islands, the Burren and Cliffs of Moher. Something very significant happens in Kapheus Water, and the elves light bonfires along the five paths to the Hill of Tara. By book three, Kapheus Water, the children discover that Kapheus is the spiritual home of Éire and that it holds the traditions, culture and language until Éire is ready to reclaim them.
Marguerite regularly visits primary schools and loves meeting children and reading to them from the Kapheus series. She was in Cork recently to read to children in local schools, including Gaelscoil Choráin, Youghal and Kilcredan National School amongst others. One school principal remarked, 'Just want to say a big 'thank you' for visiting our school last week. The children have been talking about you since... I really appreciate that you visited the school and enthused the children so much'.
Fans of the Kapheus series have plenty to say about the books!
'I have the two books finished in four days, because I am reading them so much. I have a shelf where I put all my best books I've read on it! They include Percy Jackson, Harry Potter, Alex Rider and Kapheus' - Dara, aged 10. 'Last night myself and Faolán finished Kapheus Water. Before we went to sleep most nights we devoured at least one chapter. Each night as I closed the book Faolán said NOOOOOOOOO! because he never wanted the story to end!' - Polly and Faolán.