Fun and enriching after school activities for kids this Autumn/Winter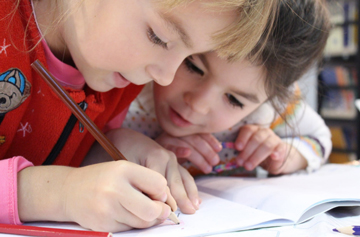 After-School Classes
After school activities benefit your child in ways that might surprise you.
According to a recent study, children who participate in extra-curricular activities are more engaged in and have a better attitude about learning; performing better academically and enjoying an increased sense of accomplishment, competence and self-esteem. Other benefits include increased motivation, critical thinking and creativity so enrolling them in after school activities is a no-brainer really!
The start of a new school year is the perfect time to start a new class or a new hobby.
On these pages you will see a great array of choices including languages, science, dance, ballet, drama, music, art, and fencing. We have something for everyone and don't forget to mention Primary Times when making an enquiry!
Bricks4kidz
Bricks 4 Kidz offer after-school classes which have been developed to stimulate interest in the areas of science, technology, engineering and maths (S.T.E.M.), where children use LEGO® to build models and play games with programmes to suit ages 5 – 12.
Themes such as Super Heroes and Jurassic Park guide the programme for the Junior Builders (5 & 6 years) while Senior Builders (7 + years) get their creations moving with motors and gears completing LEGO® technic models all of which have been designed by architects & engineers.
Tutors begin classes with a brief introduction to the theme of the build & provide guidance to children as required during builds while also setting challenges for the more advanced builders once models have been completed.
Bricks 4 Kidz find it fascinating there are so many ways children can use LEGO® as a medium to learn while they play whilst also re-enforcing elements of school curriculum learning.
For more info and booking visit bricks4kidz.ie/fingal-santry or call 6855700
Languages
Alliance Francais
Award-winning programmes for Toddlers and Children are available for every age, from 12 months to 12 years old. Through lively and stimulating activities, children of primary school age build up a broad and lasting knowledge of the French language. Classes closely follow children's development and abilities. Teachers are all native French speakers and experienced in working with children.
Their communicative approach ensures that every child is given ample opportunity to actually speak French. All the classes are harmonised with the Common European Framework of Reference for Languages so that children have the option of taking the exams of the DELF (Diplôme d'Études en Langue Française) Primaires & Juniors the official diploma valid for life and internationally recognised.
Term 1 is 15 weeks from 17th Sept 2018 to 26th Jan 2019
Toddlers Classes known as A Petit Pas classes 1- 4 year olds on Wed, Fri and Sat
45 mins weekly for 15 weeks /75 mins weekly for 15 weeks/€189/€269
Children's General French Classes: 75 mins weekly for 15 weeks/2 hours weekly for 15 weeks/€269/€339. Wed & Sat. Cadets (Sat only).
Poussins 5 – 6 years
Minimes 7 – 9 years
Cadets 10 -12 years
Bi-Lingual Classes: 3 – 18 years,
75 mins weekly for 15 weeks/2 hours weekly for 15 weeks/€269/€339. Saturdays
For more information please contact: Bérengère Langlois blanglois@alliance-francaise. ie 01 638 1444 info@alliance-francaise.ie www.alliance-francaise.ie/
Science
Junior Einsteins
Junior Einstein's mission is to nourish a lifelong love of learning through Science in all children igniting their natural curiosity by providing exciting, engaging, experimental practical STEM experiences, professionally delivered in a Structured, Safe, Supervised, Educational and Fun environment.
Bringing the WOW factor to science facts, their inclusive, hands-on approach is unique. The children make and do their own experiments, wearing their lab coats and goggles, using real scientific equipment including a university grade Van Der Graff Generator. Junior Einsteins Science Club teaches the core aspects of Physics, Chemistry and Biology through 'make & do', messy experiments, quizzes and games. Their small group of hand-picked scientists are Garda cleared and Insured.
Some of their activities include: Slime making, Long-chain polymerisation , Newtonian & Non-Newtonian fluids, Smoke cannons, Model gliders & rockets.
They also provide Science Parties, After-School Science Clubs, Science Workshops & Demonstrations, Super Science Show , Camps and Corporate Science Events.
A proudly Irish owned Company and Winner of First prize International VOOM 2018 Richard Branson Virgin Media Business Award.
For more information tel: 085 8641959 or visit www.junioreinsteinsscienceclub.com
Dance
Sylvia Behan School of Dance
Sylvia Behan School of Ballet is a long established school which provides a high standard of training for children from age 4 years.
Students are prepared for Examinations of the Royal Academy of Dance (London) in both Grade & Vocational. Students also have the opportunity to dance with visiting ballet companies, festivals, church services, and TV and school performances as well as the end of year show. All classes are taught by qualified teachers and assistants.
Tel Sylvia on 01- 838 5255 or 087 -2478570

Nadia Quick School of Ballet
Classical Ballet is a healthy and fun form of exercise for all!
The Nadia Quick School of Dance, established in 1968 provides a high standard of training for children and students preparing for the Royal Academy of Dance Ballet examinations. There are also opportunities to take part in shows,
workshops and competitions. All of the students taking both Vocational and Grade examinations were successful again this year. One of their students attended the Joffrey Ballet Summer School in New York, this year for the second time.
Nadia is a Life Member and Registered teacher of The Royal Academy of Dance and a Fellow of The Imperial Society of Teachers of Dance.
Classes take place in the Teresian School, Donnybrook
The new term resumes on Monday the 3rd September.
Classes for 3 to 5 year olds resume Saturday 8th September.
For further information Tel Nadia on 01 2859365, 087 6905881 or email
quick.nadia@gmail.com mailto:quick.nadia@gmail.com
Isabelle Ashe Theatre Arts
Isabelle Ashe Theatre Arts specialises in classical ballet, modern/ musical theatre, jazz, tap, contemporary, lyrical and commercial jazz dance with acting and singing now added to the curriculum. They are a progressive school, always refreshing their programmes and with continual workshops from pro-actors and West End performers and annual performances in the NCH. Classes are tailored to individual needs and students move up levels during the year when ready. Once a week hobby classes and classes for students wishing to go down the grade and vocational exam route available. Teacher training. Their successful classes are based on a relaxed and inclusive environment. Classes include ballet with tap for the very juniors, ballet with the above genres in one class, or stand alone classical ballet and other genres as stand alone classes. Isabelle teaches 95% of the dance classes personally. Please see advert for venues and contacts.
Fencing
Pembroke Fencing
These classes are suitable for children and teens, boys and girls who have never experienced fencing before as well as for those who have some basic fencing knowledge. Each class is taught using plenty of games to improve speed and co-ordination, develop specific fencing skills and tactical thinking. Kids learn fencing blade and footwork, rules of courtesy during a fencing bout and refereeing skills - all that of course while doing plenty of sword fighting! Children can take part in various competitions for their club, their school and maybe even the country.
For Registration Tel 0862160646 info@pembrokefencing.iewww. pembrokefencing.ie
Artzone
Join Artzone and unleash your creativity. Artzone is Ireland's leading children's art school run by qualified art teachers, working to a structured curriculum, producing new portfolios every term. Artzone run weekly art classes, camps and parties across Dublin, Kildare, Meath, & North Wicklow. Classes are fun, instructive and inspirational - focused on design, creativity and skills. Visit Artzone Studios in Rathfarnham for a new range of exciting art courses for Tweens, Teens and Adults – Painting, Drawing, Dress Making, Animation, Photography, Comic Book Illustration or Fashion. Phone 01 4990614 or visit www.artzone.ie
Music
Mezzo Music Academy
Mezzo Music Academy welcomes babies, toddlers, pre-schoolers, children, teens and adults. They provide tuition in an extensive range of instruments including voice, with an emphasis on fun. Kindermusik (an award winning music and movement programme for babies to age 4), promotes basic music vocabulary, social & emotional skills, early maths, physical coordination, sharing, creativity and lots more. Classes run Thursdays and Saturdays.
Pre-Instrumental classes for 4-6 year olds, provide a wonderful opportunity for children to explore up to 8 instruments in the 14 week programme, along with rhythm games, ear training and singing. Classes run Tuesday, Thursday and Saturdays. Group Instrument Classes for ages 5-7 are a fun introduction to learning your very first instrument and grasping the early stages of reading music. Classes are available in Keyboard, Guitar, Ukulele, Violin, Recorder and Percussion and run in 10 week blocks. Mezzo also offers the Silver Singing Group for retirees in the area, Music Appreciation classes, Theory classes and Junior & Leaving Cert Music Grinds.
New to Mezzo this term, are small group music classes for children with autism. Research has shown that when autistic children interact with music on a regular basis, their communication and cognitive behaviour and development improve.
They are now taking bookings for their Junior and Adult Choirs as well as all of their classes and courses, Tel: 016852590, info@mezzomusicacademy.ie, www.mezzomusicacademy.ie
Dun Laoghaire School of Music
Children's World of Music are fun classes especially designed for children between 3 – 6 years of age. Children learn and are
actually involved in the whole world of music. They learn to read and clap rhythms, speak music vocabulary and sing
dance, act and play to the music of Beethoven, Tchaikovsky and other greats.
There are ear and aural training games, percussion instruments and lots of catchy action songs.
There are also lots of opportunities for concert performances during the year and small intimate music displays for parents, grandparents and friends.
For further information please contact Catherine on
087 2373739
Dublin School of Music
Dublin School of Music is a community based music school, founded in 2003 to give children and adults the opportunity to attend music classes in their local area. The school offers a comprehensive range of classes such as Piano, Violin, Flute, Singing, Guitar, Bass, Clarinet and drums. The ethos of the school is on nurturing the love and enjoyment of music in everyone who passes through their doors. Whilst exams are not compulsory, in practice many students elect to submit for examination and DSM proudly boasts on exemplary record of achievement.
Phone: 01 4929998 www.dublinschoolofmusic.com
Drama
Dublin Stage School, The Mel Ryan School
Mel Ryan started her school in 2011, with the intention of using the medium of the arts to teach valuable life and social skills such emotional intelligence, leadership, resilience, empathy, and communication skills through music, drama, dance and presentation.
Two different styles of class are available – Musical Theatre & Hip Hop and Dream Believe Achieve. The Musical Theatre & Hip Hop is a fun-filled class which culminates in the children performing in the annual show in the Mill Theatre, Dundrum. The Dream Believe Achieve class is held in small groups and is more individually focused. This class has been wonderfully successful, particularly in working with shyness or anxiety issues.
The school prides itself on its ethos – that of treating every student equally regardless of standard of performance with drama exercises being specially adapted to have a definite social skills and life skills learning outcome.
All teachers are highly trained, professional actors and dancers who are equally passionate about teaching life skills.
The school, which has grown from 2 to 350 students in 7 years offers classes in Mt Merrion, Stillorgan, Carrickmines and Monkstown. Due to overwhelming demand, a fifth venue is opening in September, in the Star of the Sea Hall, Sandymount. More at www.melryanschool.ie Phone: 086-8372364 Email: melryanschool@gmail.com
Talented Kids Performing Arts School
Talented Kids Performing Arts School and MVW Talent Agency will recommence classes from Fri.7th Sept. in Scoil Mhuire Hall, Clondalkin. Classes are suitable for ages 3 to adult and include a variety of classes in singing, dancing, drama, modelling and musical theatre. All registered students will be involved in their upcoming show at the Mahony Hall in the Helix in December.
Teachers are superbly qualified in their own field of expertise, meaning that students can also avail of registered state exams in the Performing Arts. Classes are taught in a friendly and encouraging atmosphere where children meet new friends and develop essential self-confidence.
All students are represented by their extremely successful AGENCY which is highly sought out by Casting Directors, both here and abroad looking for students of all ages for regular castings in TV, radio, film, stage show and commercial work. Phone 045- 485464 Mobile: 087-2480348
Email: talentedkids@hotmail.com
www.talentedkidsireland.com
Mezzo Performing Arts
With over 7 years providing musical excellence in Terenure, Mezzo Music Academy are now taking bookings for their Performing Arts group. Weekly classes will involve the development of confidence, giving children a sense of how to be comfortable with themselves and their abilities (whatever level that may be), and also learning to be comfortable on stage.Performing Arts Classes will develop the child's ability to represent and communicate emotions through spoken dialogue, body movement, song and physical expression.Children will work as part of a team and will enhance their social skills in group situations, as task management and the ability to follow instruction, leads to personal and group affirmation.There are also opportunities with improvisation and self direction within classes, as it is important to develop all aspects of theatre in order to provide a more rounded training - and children love the idea of feeling that they play a part in their own development.Classes run on Tuesdays 3.30pm - 4.30pm. Tel: 016852590, info@mezzomusicacademy.ie, www.mezzomusicacademy.ie
Kids Cards Club
Kids Cards Club are delighted to announce that their Friday afternoon sessions kick off on the 14th of September at 3.30pm til 4.30pm at the Firhouse Community Centre. The cost is just €65 for a 13 week term – or pay as you go for €5 per session. Saturday Afternoon Sessions from 3pm to 5pm at the same venue on the 15th of September. Register for Saturday Sessions and then pay as you go for Tournament Events and free-play.
Please register your interest now at kidscardsclub@gmail.com or call Deirdre on 086 3924209.