20 THINGS TO DO THIS AUTUMN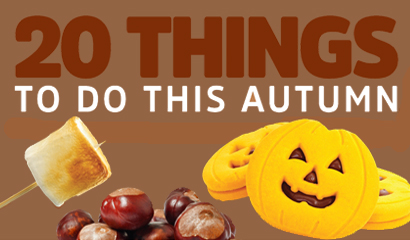 The leaves are changing, the air is cooler and the days are getting shorter, which only means one thing, Autumn is here. Primary Times takes a look at what to do outdoors and indoors this Autumn.
1. PUMPKIN PICKING
Head down to your local pick-your-own and choose out your favourite looking pumpkin, ready to carve.
2. FIND A FIREWORKS DISPLAY
Check out your local fireworks display and watch the bright colours light up the sky. Remember to socially distance and take your gloves!
3. WALK IN THE FOREST
Head to your local forest to admire the changing of the leaves and the autumnal colours.

4. TOAST MARSHMALLOWS
Nothing beats freshly toasted marshmallows on the fi re! Top with your favourite biscuit and make a delicious s'more!
5. INDOOR HALLOWEEN TRAIL
Set up a treasure trail indoors with cryptic clues and scary surprises, which is a great alternative to trick or treating this Halloween.

6. COLLECT CONKERS
Conkers can provide endless fun! Play games, craﬞ and decorate with them!
7.MAKE YOUR OWN GUY FAWKES
An old tradition and fun for the whole family to get involved in. Why not make it a competition with your neighbours for the best decorated Guy Fawkes?
8. DECORATEPINE CONES
Decorate with glitter, paints, feathers and anything else to make some decorative autumnal decor.
9. FAMILY HALLOWEEN MOVIE NIGHTS
Choose your favourite spooky movies, grab some popcorn and cozy up by the fire with the whole family.
10. GHOST HUNT
Whether it's a guided tour or one you're doing on your own, check out the spooky houses and goings on, past and present, in your area!

11. MAKE AN AUTUMN WREATH
Gather some leaves, twigs and autumnal flowers to create a beautiful decorative Autumn wreath.
12. MAKE YOUR OWN HALLOWEEN COSTUME
Whether it's a ghoulish ghost, vicious vampire or a wicked witch, homemade Halloween costumes are great if you are on a budget.
13. BAKE SOME HALLOWEEN TREATS
Use your le over pumpkins to make a delicious pumpkin pie or sweet biscuit treats.
14. CARVE PUMPKINS
There are lots of designs and tutorials available online. Opt for a ghoulish ghost or why not try and carve your favourite Harry Potter character?!
15. LEAF GARLAND
Collect all those falling leaves and create an Autumnal garland to decorate your house with.
16. ROAST CHESTNUTS
Find some chestnuts and roast them when you get home.
17. DONATE TO A LOCAL SUPERMARKET
Remember to donate to your local food bank when shopping, which is agreat way to give back to the community and help people in need.
18. MAKE TOFFEE APPLES
Make your own toff ee apples with colourful sweet sprinkles, bananas, chocolate and any sweet treat!
19. DIG OUT SOME BOARD GAMES
When the nights are getting darker, dig out your favourite board game and play with the whole family.
20. PROTECT THE HEDGEHOGS!
Don't forget to look a er those prickly creatures and make a hibernation area for them in your garden to keep them safe all Autumn.
How many can you tick off ? For more information about what to do this Autumn, take a look at our listings