Understanding disability with Rosie Jones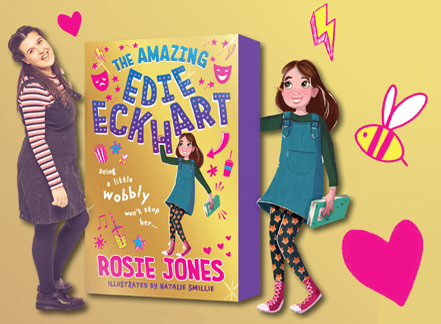 Rosie Jones is a British stand-up comedian, actor and script writer, who has written for multiple TV panel shows and sitcoms. Her children's fiction book The Amazing Edie Eckhart is inspired by her own experiences of growing up with cerebral palsy (CP). In the UK, about 150 children are diagnosed with CP every month, according to Scope, and 17 million people worldwide live with the condition. We spoke with Rosie to understand more about CP, and the importance of depicting disability in books.
What was it like for you growing up with CP?
I have CP because my brain was starved of oxygen at birth, so I've always been disabled, and I've never known what it's like to not have CP. I have always seen the positives in life, so rather than focusing on what I couldn't do (e.g. talking quickly, running, playing hopscotch!) I focused on the things I could do (e.g. eating everything in sight, reading tonnes of books, making loads of friends!). I never, ever felt like I was missing out just because I was disabled.
What was your inspiration for the character of Edie Eckhart?
I really wanted to write a children's book where the main character had a disability because when I was little, growing up in the nineties, I never saw anybody like me depicted in books, or in the media.
I think it's extremely important to represent disability in children's books because it not only tells disabled children that their story is valid and worth telling, it also educates able-bodied children about disability.
What do you hope children can take away after reading your book?
That people with disabilities are brilliant, funny, challenging, flawed, courageous, stubborn, diverse and unique… just like everybody else! And that we absolutely deserve to be the hero of the story. I hope they enjoy getting to know all about Edie and her world. I certainly wish I'd had her in my life when I was a little girl. I hope that she inspires readers to live their own lives, 'The Edie Way' – without the fear of your 'differences' holding you back.
Were there any challenges you faced in the writing of The Amazing Edie Eckhart?
Good question! I had plenty of time on my hands because I started writing in lockdown. I think I felt the importance of doing Edie justice. She's my character – my creation - and I love her. Growing up, everybody wanted to be an astronaut, a princess or a gladiator (it was the nineties and everybody was obsessed with the television show Gladiators). Except me. I wanted to be a children's author. Today, I'm lucky enough to now be a comedian, actor AND a writer. But I never forgot my true, original dream and deep down I am still just that little girl wanting to be the next Jacqueline Wilson.
What would you say to help any child growing up with a disability?
I hope this book has a positive impact on how society views disability. I hope it makes people more open and accepting of diversities, and I hope it teaches children that it doesn't matter how you walk, or who you love. As long as you're a good person and you're true to yourself, you're winning at life! Don't apologise for being you. Don't try to change for anybody else. Be you and be proud of it.
The Amazing Edie Eckhart by Rosie Jones, and illustrated by Natalie Smillie, is out now.