The Twelve Days of Christmas Activities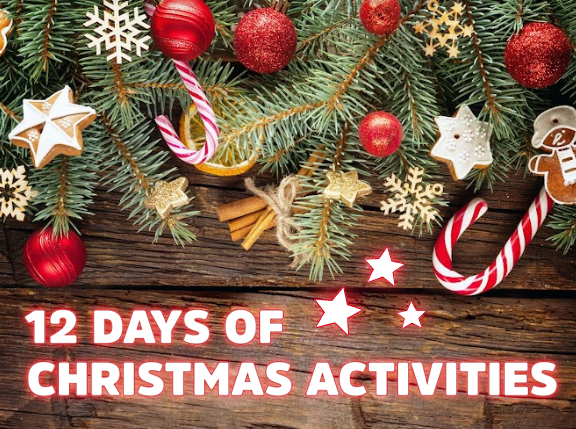 Try something fun and cheap to do every day leading up to Christmas. Primary Times takes a look at some fun, festive and cost effective activities to do in the twelve days leading up to Christmas.

DAY 1. START A CHRISTMAS READING LIST
Now that it's the Christmas holidays, you might have some spare reading time. Make a list of all those unread books on your bookshelf and get reading. You could even try to theme the books around the festive season.
DAY 2. MAKE SOME CHRISTMAS CARDS
Try making some handmade cards for you loved ones. Not only will it be a lovely personalised gift but also a creative activity for children.
DAY 3. FIND THE BEST HOT CHOCOLATE RECIPE
Do you know the best hot chocolate recipe? Is it made with hot water or milk? Maybe it's half and half. Should you add marshmallows and whipped cream or is plain the best? Have fun figuring it out and remember to have some willing taste testers nearby.
DAY 4. DONATE
As the season of giving, Christmas is the best time to go through any old clothes, toys or books and donate them to a charity of your choice.
DAY 5. MAKE DECORATIONS
Making your own Christmas decorations can be a great, cost-effective activity for everyone. Try making snowflakes from paper to hang on a window or make popcorn garlands that look good enough to eat!
DAY 6. WRITE TO SANTA CLAUS
Writing a letter to Santa usually includes what you'd like for Christmas and little else. This year, why not try to write down what you are already grateful for or ask Santa some questions about his busiest time of the year.
DAY 7. MAKE AN ALTERNATIVE CHRISTMAS TREE
An alternative Christmas tree can add extra festive cheer throughout your home without having to buy multiple trees. From stacked book trees to toilet roll trees, you can really use your imagination to create cost-effective and space saving Christmas trees.
DAY 8. HOST A CHRISTMAS GAMES NIGHT
Get together with your family and friends and have a night of festive themed games. Some fun ideas include an ugly Christmas jumper contest, Christmas film charades, a gingerbread house-building race.
DAY 9. SPOT SOME CHRISTMAS LIGHTS
Wait until it gets dark outside, then head out on a walk or drive in a car to spot all the bright holiday displays around your neighbourhood. It's sure to get you in the festive spirit.
DAY 10. HOST A CHRISTMAS KARAOKE NIGHT
A fun alternative to carol singing. Pick a bunch of your favourite Christmas songs and see who can sing them best... and worst.
DAY 11. BAKE CHIRSTMAS COOKIES
Nothing says Christmas like baking. Try getting the whole family involved in making any baked goods you'd like, but don't forget the cookies for Santa Claus.
DAY 12. START A NEW TRADITION
Traditions are a big part of Christmas so why not start your own! You could create a special Christmas breakfast, wear matching Christmas jumpers or simply choose one of these activities to continue each year.