Shannon Heritage launch new education programme in partnership with Limerick Educate Together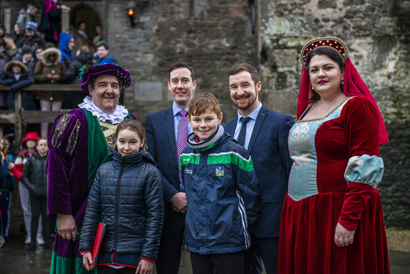 Shannon Heritage, a Shannon Group company, has launched a new innovate junior cycle project based tour at its flagship Bunratty Castle and Folk Park. This curriculum based tour has been developed in partnership with Limerick Educate Together Secondary School and is targeted at the new Junior Cycle students in schools around Ireland.
Bunratty Castle and Folk Park already host up to 200 school tours a year, this new redeveloped Junior Cycle tour covers a number of subjects including History, Music, Home Economics, Science, Modern Foreign Languages and Geography.
Classes can investigate the 19th Century Folk Park and 15th Century castle and explore key learning outcomes linked with the Junior Cycle curriculum in an immersive and practical way. The tour integrates many elements of the various subject specifications, allowing for a holistic approach to project based learning sprinkled with fun.
Education is a key pillar of Shannon Heritages' engagement strategy; providing a natural environment for children to learn, using its custodial and curatorial role in managing some of Ireland's most recognisable heritage attractions.
To maximise local and international involvement in its various attractions the education programme works in close partnership with local schools to develop meaningful educational experiences. This helps to reinforce and stimulate curiosity and imagination in children and young people about local and wider environments.
Eoin Shinners is the Principal of Limerick Educate Together Secondary School (ETSS), and is enthused by this new partnership, "We do things differently in Limerick ETSS. We want students to take ownership over their own learning and develop the skills for lifelong learning. We place significant emphasis on problem-solving, critical thinking, collaboration and research. The new Junior Cycle focuses promotes a balance between knowledge and skills. Much of what we do in school is project-lead and we are delighted to be working with Shannon Heritage on this project-based learning pilot programme, which will undoubtedly complement and enhance how we deliver the Junior Cycle curriculum in our school. I have no doubt that other second-level schools will see significant value in such a programme" Mr Shinners said.
Teachers and students in Limerick ETSS have been engaged in integrated curriculum planning in recent weeks and will spend this term working on a project-based unit of learning which will conclude with a visit to Bunratty Castle and Folk Park. Students will use the theme of Bunratty' chequered history as a starting point in the unit of learning.
Speaking about the project Managing Director of Shannon Heritage Niall O'Callaghan said "We are delighted to be partnering with Limerick Educate Together Secondary School on such a cutting edge educational project. We look forward to rolling this successful programme out to all our attractions, welcoming many schools across our portfolio. Our award winning attractions, which include Craggaunowen and King Johns Castle, cover the length and breadth of Irish history and are a real asset to schools throughout the country."
Key information:
Junior Cycle Project Based Learning in partnership with Limerick Educate Together Secondary School

Covering many subjects and learning outcomes.

Registration is required. To register contact education@shannonheritage.com or call 061711222.